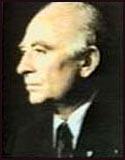 Patrick J. Frawley was born in Nicaragua in 1923. His American father was a banker, import-exporter and dealer in heavy equipment in Latin America.
Fawley was educated in San Francisco but at the age of 18 dropped out of college and returned to Nicaragua to work with his father. One deal arranged by Fawley involved the sale of $300,000 worth of tyres to the Panamanian government.
Fawley served with the Royal Canadian Air Force during the Second World War. In 1945 he married a Canadian and settled in San Francisco. There he became engaged in a series of small-time business ventures that eventually landed him in possession of a failed manufacturer of parts for ball-point pens. Frawley turned the company into PaperMate and in 1955 sold it to Gillette for $15.1m.
The extremely rich Fawley now purchased Bing Crosby' old house on South Mapleton Drive in Los Angeles. That was later sold to Aaron Spelling for $10.25m. He then built another house for $11m.
Fawley used his money to finance right-wing organizations such as the American Security Council (ASC), the lobby for the military-industrial complex. Other members of the ASC included Robert Wood, Robert R. McCormick, Douglas MacArthur, Sam Rayburn, Ray S. Cline, Lyman Lemnitzer, Thomas J. Dodd, W. Averell Harriman, Nelson A. Rockefeller, Eugene V. Rostow, and John G. Tower.
Fawley took over Technicolor Incorporated and Eversharp Incorporated, makers of Schick razors. Schick's introduction of stainless-steel razor blades made it another financial success. Fawley opened up a manufacturing plant in Cuba, but this was lost when Fidel Castro took control of the country.
Fawley now became a financial supporter of Richard Nixon who he hoped would as president order the overthrow of Castro's government in Cuba. He was devastated by Nixon losing to John F. Kennedy in 1960 and the failed Bay of Pigs operation the following year.
In 1961 Alton Ochsner, with the financial help of Clint Murchison, established the Information Council of the Americas (INCA). Ed Butler was appointed as Executive Director of INCA. The main objective of the organization was to prevent communist revolutions in Latin America. Ochsner told the New Orleans States Item: "We must spread the warning of the creeping sickness of communism faster to Latin Americas, and to our own people, or Central and South America will be exposed to the same sickness as Cuba." (16th April, 1963)
Edgar and Edith Stern, owners of WDSU radio and television, were members of INCA. Eustis Reily of the Reily Coffee Company personally donated thousands of dollars to INCA. However, it was Fawley who was INCA's largest financial contributor. The organization used some of this money to make a film about Fidel Castro entitled, Hitler in Havana. The New York Times reviewed the film calling it a "tasteless affront to minimum journalistic standards."
In his book, The Ultras in the USA, Vyacheslav Nikitin points out that Frawley was involved with the American Security Council, the lobby for the military-industrial complex. Frawley was a member of National Strategy Committee that also included General Lyman Lemnitzer.
In 1967 Jim Garrison began investigating the activities of Lee Harvey Oswald in New Orleans. Alton Ochsner told a friend that he feared Garrison would order his arrest and the seizure of INCA's corporate records. Ed Butler took these records to California where Frawley arranged for them to be hidden. Ronald Reagan, the governor of California refused all of Garrison's extradition requests. Frawley had previously helped fund Reagan's political campaigns in California.
Frawley continued to work closely with right-wing activists like Ed Butler. Together they put out a magazine called The Westwood Village Square which tried to blame the assassinations of John F. Kennedy, Robert Kennedy and Martin Luther King on the communists. He also used the threat of withdrawing advertising to control the content of media outlets. For example, he cancelled $3m worth of Schick advertising from ABC News after it broadcast a documentary critical of Richard Nixon.
In 1968, Frawley organized an attempt to oust liberal Senator Thomas Kuchel. Frawley wanted to replace him with retired U.S. Air Force Chief of Staff Curtis LeMay. However, it was eventually agreed to back Max Rafferty, who unseated Kuchel in the primary but lost to Democrat Alan Cranston.
In March 1970, Jack Anderson reported that Senator George Murphy was on the payroll of Technicolor Incorporated. Murphy was receiving $20,000 a year and played a role in helping Frawley to obtain a $3.5 million contract for Technicolor to handle all the filming at Cape Kennedy.
An alcoholic, Fawley purchased Shadel Hospital in Seattle after receiving a course of treatment for his drinking problem at the institution. In 1970 Frawley sold Schick to Warner Lamber. He retained Shadel Hospital and invested some of his profits in order to build up a chain of treatment centres.
William W. Turner spent many years investigating the illegal activities of Frawley. After one article appeared in The Progressive, Frawley complained that Turner was "setting me up to be assassinated". In his autobiography, Rearview Mirror, Turner claimed that Frawley worked closely with Jerry Ducote in "political espionage matters".
Patrick J. Frawley died in Santa Monica, California, on 3rd November, 1998.