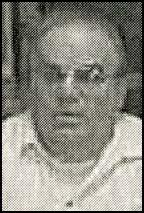 Jerrol Francis Custer was born in 1941. He joined the United States Navy and eventually became a radiology technician at the Bethesda Naval Hospital. When John F. Kennedy was assassinated on 22nd November, 1963, his body was taken to Bethesda and Custer was asked to take X-rays of Kennedy's body.
Custer was a good friend of Dennis D. David. Both men saw the 16-mm film, slides and black and white photos of the Kennedy autopsy that had been produced by William Pitzer, head of the Audio/Visual Department at the Bethesda Naval Hospital.
According to Dr. Joseph Humes, Pitzer was not present at the autopsy. However, he admitted that the Bethesda Naval Hospital was equipped with closed-circuit television. This was the responsibility of Pitzer and over the years had used these facilities to make instructional movies. It is therefore possible that Pitzer had secretly made a 16-mm movie film of the autopsy on President Kennedy's body, without being present in the autopsy room when it was carried out.
William Pitzer decided to retire in 1966. He told friends he had been offered a good job working for a network television station. It is believed that he intended to make a programme about the Kennedy assassination. On 29th October 1966, Lieutenant Commander William B. Pitzer was found dead at the Naval Medical School, Bethesda. Investigations by the Naval Investigative Service and the Federal Bureau of Investigation later concluded that a gunshot wound to the head had been self-inflicted.
Custer was deeply shocked by the death of Pitzer. He told the researcher, William Matson Law: "I realized that the government can do what they want, when they want, and as often as they want. I kept my quiet for 35 years... Truthfully, the only thing I think that actually saved me was they felt that I was too low on the totem pole to worry about... Later on down the line, I thought, "Well, it's about time the truth should come out."
Custer had been forced to sign a "gagging order" after the autopsy. This was not rescinded until the House Select Committee on Assassinations began investigating the case in 1977.
In 1980 Jerrol Custer was interviewed by Vincent Palamara and David Lifton for Best Evidence: The Research Video (1990). He also appeared in the television documentary, JFK: An Unsolved Murder.
On 28th October, 1997, Jerrol Custer provided a deposition to the Assassination Records Review Board (ARRB). He claimed he was certain he took x-rays of the C3/C4 region of the neck and that those x-rays showed numerous fragments. Custer added that he suspected the reason those x-rays disappeared was that they showed a large number of bullet fragments. According to researcher, Michael T. Griffith: "Custer is almost certainly correct. Why else would those x-rays have been suppressed? The missile fragments described by Custer are another fatal blow to the lone-gunman theory, which in turn means there must have been more than one shooter."
He was interviewed by William Matson Law for his book, In the Eye of History: Disclosures in the JFK Assassination Medical Evidence. Custer told Law that Kennedy's neck wound was man-made: "There were no suture marks. It was a big gaping hole." Custer also claimed that a bullet fragment fell out of Kennedy's back: "It wasn't complete because there was some fragmentation. Some area of destruction on the bullet." This bullet was taken away by FBI agents, Francis X. O'Neill and James W. Sibert.
Custer lost his job as a supervisory X-ray technician. He then worked as an armed security guard in Pittsburgh. Jerrol Francis Custer died of a massive heart attack in 2000.