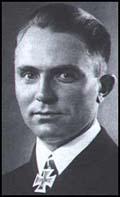 Guenther Prien was born in Osterfeld, Germany, on 16th January, 1908. He became a sailor at the age of fifteen and by 1925 he was an officer on the Hamburg Amerika Line.
In 1933 Prien joined the German Navy. He became commander of U-47 and on 14th October 1939 managed to sink the Royal Oak with the loss of 833 lives. He later published his memoirs I Sank the Royal Oak.
Over the next two years Prien is credited with destroying 28 merchant ships. While leading a wolfpack attack on an Allied convoy, he was killed when the U-47 was sunk on 6th March 1941.