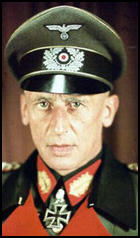 Hermann Hoth, the son of an army medical officer, was born in Neuruppen, Germany, on 12th April 1891. He joined the German Army and served throughout the First World War.
Hoth remained in the army and in 1935 was given command of Germany's 18th Division at Liegnitz. Promoted to lieutenant general he was appointed head of 15th Motorized Corps on 10th November, 1938 and the following year took part in the invasion of Poland.
During the Western Offensive Hoth drove through the Ardennes to the Channel before entering Normandy and Brittany. His success resulted in him being promoted to general on 19th July 1940.
Hoth was head of Panzer Group 3 during Operation Barbarossa. He captured Minsk and Vitebsk before heading for Moscow. In October, 1941, Hoth was sent to command the 17th Army in the Ukraine. The Red Army counter-attacked in January 1942, and Hoth was driven back.
In June 1942, Hoth succeeded Erich Hoepner as head of the 4th Panzer Army and was involved in the siege of Stalingrad. He also took part in the battle of Kursk in July 1943, but was forced to withdraw to better defensive positions. Adolf Hitler recalled Hoth to Germany in November 1943 and for the rest of the war he joined the reserve.
After the war Hoth was arrested and charged with war crimes at Nuremberg. Found guilty, he was sentenced on 27th October 1948 to 15 years in prison. Released after six years he retired and wrote books about military history. Hermann Hoth died in 1971.
Anton Drexler, the original founder of the Party, was there most evenings, but by this time he was only its honorary president and had been pushed more or less to one side. A blacksmith by trade, he had a trade union background and although it was he who had thought up the original idea of appealing to the workers with a patriotic programme, he disapproved strongly of the street fighting and violence which was slowly becoming a factor in the Party's activities and wanted to build up as a working-class movement in an orderly fashion.