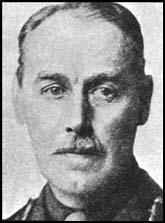 Archibald Murray was born in 1860. He joined the British Army and by the outbreak of the First World War, he was chief of staff to the British Expeditionary Force leader, Sir John French. He suffered a nervous breakdown in early 1915 and was replaced by Sir William Robertson.
In 1915 Murray was given command of the imperial forces in Palestine and in March, 1916, became British commander-in-chief in the Middle East. After twice failing to take Gaza, he was replaced by Edmund Allenby in June, 1917.
Murray served in England until his retirement from the British Army in 1922.
Sir Archibald Murray died in 1945.