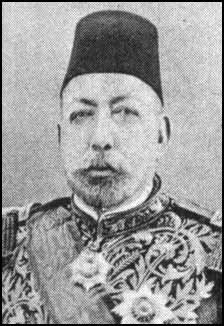 Abdul Hamid, the son of Sultan Abdul Majid, was born in 1842. He succeeded his insane brother, Murad V in 1876. He granted Turkey a parliamentary constitution in 1876 but the following year this was rescinded and ruled as a dictator for more than thirty years. Although some administrative reforms were made in certain provinces such as Syria and Palestine, little was done in the rest of the Empire.
Hamid was forced to summon a parliament in 1908 by the Young Turks movement. He attempted a counter revolution in April 1909, and when this failed he was deposed and exiled to Salonika.
Abdul Hamid died in 1918.