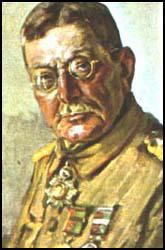 Baron von der Goltz was born in 1843. After reaching the rank of major, Goltz left the German Army in 1883 to take up a training post with the Turkish Army. He returned to Germany in 1896 as a lieutenant general.
After the successful invasion of Belgium in August 1914, Goltz became military governor of the country. In December, 1914, Goltz was transferred to Constantinople where he became a military adviser to the Turkish government. After a power struggle, in March 1915,Goltz replaced Liman von Sanders as commander of the Bosporous Army. His plans for a major attack on the British in Egypt and India were rejected.
In October 1915 Goltz was given the command of the Sixth Army on the Mesopotamian Front. Baron von der Goltz supervised the siege of Kut but died a few days before the garrison's surrender in April 1916.