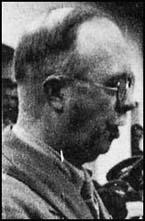 André Marty was born in Perpignan, France in 1886. A naval engineer, Marty led a mutiny in an attempt to stop the French Navy intervening against the Bolshevik Revolution in 1917. Tried and imprisoned, Marty was eventually released in 1923.
Marty immediately joined the Communist Party and eventually became a member of its Central Committee. He was also appointed to the executive of the Comintern and was involved in establishing the International Brigades that took part in the Spanish Civil War.
In Spain he was commander of the volunteers in Albacete and developed a reputation as an officer willing to execute his own men if they showed signs of wavering in their communist faith or in their willingness to fight the enemy. However, he was liked by many men who served under him. Archie Cochrane met him at the beginning of the war: "He was an impressive figure - tall, with a bushy beard and small dark hard eyes. I then made my speech offering the services of the Spanish Medical Aid Committee field hospital unit. He replied briefly in French, thanked me, and embraced me."
Jack Jones also liked Marty: "He was a sharp, imperious-looking man, and looked capable of performing all the actions Hemingway and others have written about. Yet to me there was a touch of the Tom Mann about him; he appeared to be vigorous, thrusting and bore evidence of long years of struggle. He wanted us to use our influence with the Labour Party to oppose all efforts at mediation. He claimed that talk of mediation was rife and that the British and French Governments could be involved, resulting in a weakening of the Republic's defences."
Marty was in the Soviet Union on the outbreak of the Second World War. He later moved to Algiers where he attempted to direct the activities of the Front National and the Frances-Tireurs Partisans, the military wing on the Communist Party.
During the D-day landings took place Marty attempted to organize a communist revolution. However, under instructions from Joseph Stalin in the Soviet Union, Maurice Thorez and other leaders refused to cooperate.
After the war Marty was elected to the National Assembly. In 1952 Etienne Fajon, a member of the Communist Party, denounced Marty and Charles Tillon as police spies. In December of that year both men were expelled from the party. Marty remained a deputy until 1955, when he retired to a village near Toulouse.
André Marty died of lung cancer on 23 November 1956.