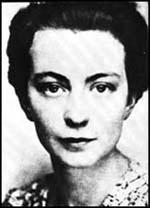 Andrée de Jongh, the daughter of a headmaster, was born in Schaerbeek, Belgium, on 30th November, 1916. It was a year after the Red Cross matron Edith Cavell had been executed by the Germans for helping some 200 First World War soldiers to escape from Belgium to the neutral Netherlands. According to one report, this story told to her by her father, deeply impressed her.
After leaving college Andrée de Jongh began working as a commercial artist in Malmédy. However, when the German Army invaded on 10th May, 1940 she decided became a nurse in Brussels. Some of her patients were captured British soldiers, whom she helped to send letters home via the Red Cross.
Andrée de Jongh decided to follow the example of her heroine, Edith Cavell, and with the help of her father, Frederic de Jongh, decided to organize an escape line for soldiers and airmen who wished to return to Britain. This included the creation of a series of safe houses in and around Brussels.
The first escape group comprised 11 men were arrested in Spain. General Francisco Franco had a pro-Nazi foreign policy and he prevented the men getting back to Britain. Andrée de Jongh led the next group made up two Belgian soldiers and a British man. This went from Brussels, through France to the Pyrenees, before arriving at the British consulate in Bilbao.
Andrée de Jongh was able to persuade British officials to provide financial and logistical backing for what became known as the Comet Escape Line. Airey Neave, who had himself escaped back to England from Coldiz Prison, was the member of MI9 (the intelligence branch set up to bring home stranded servicemen from occupied territory), was placed in charge of the operation.
Comet worked alongside PAT, an escape line established by Ian Garrow, a soldier in the British Army, who had missed the Dunkirk evacuation and remained in France where he arranged an escape route over the Pyrenees. In October, 1941 Garrow was captured and imprisoned. Albert Guerisse took over at head of the network and when he was arrested, Mary Louise Dissard became the new leader.
Andrée de Jongh became worried that the French Resistance had been penetrated by Gestapo agents and moved her headquarters from Brussels to Paris. Peter Churchill and Odette Sansom were arrested in April, 1943. It is now believed that Henri Déricourt, who had joined the network in January 1943 was responsible for betraying these agents.
On 7th June 1943, René Hardy was arrested by the Gestapo. His chief interrogator, Klaus Barbie, eventually obtained enough information to arrest Jean Moulin, Pierre Brossolette and Charles Delestraint. Moulin and Brossolette both died while being tortured and Delestraint was sent to Dachau where he was killed near the end of the war. Later that month Frederic de Jongh was arrested at Gare du Nord by the Gestapo and was later executed.
This spy network, coordinated by Hugo Bleicher, led to the arrests of several British agents. Andrée de Jongh continued to evade the Gestapo and on one occasion Comet rescued a seven-man RAF bomber crew and got them back to Britain in a week.
Andrée de Jongh remained free until January, 1944. Sent to Ravensbruck Concentration Camp she managed to survive until being liberated in April, 1945. During the Second World War the Comet Line helped return about 800 Allied troops to Britain. Over a hundred of those who helped on the escape route were captured and executed. For her wartime heroism she was awarded the George Medal by the British and the Medal of Freedom by the Americans.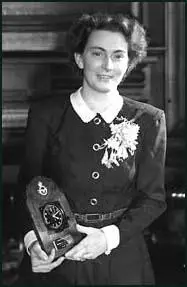 After the war Andrée de Jongh went to the Belgian Congo and worked as a nurse in a leper colony. Later she did similar work in Ethiopia at a leper hospital in Addis Ababa.
Andrée de Jongh, who was created a countess by the King of the Belgians, died at the University Clinic Woluwe-Saint-Lambert, Brussels. on 13th October, 2007.
Countess Andrée de Jongh, who has died in Brussels aged 90, founded and organised the Comet Escape Line, the route from Belgium through France to Spain used by hundreds of Allied airmen to escape from Nazi-occupied Europe.

Known to all simply as "Dédée", Andrée de Jongh began her resistance work as soon as the Germans advanced into Belgium in May 1940. At the time she was a 24-year-old commercial artist and Belgian Red Cross volunteer, but she gave up her work in order to nurse wounded soldiers; once they were able to walk, she found them safe houses and recruited her friends to help.

As those soldiers and airmen evading capture were soon spread throughout Belgium, she had to find a means of returning them to Britain. With the help of her father, she set up a trail of safe houses along which she could move the men, from Brussels through Paris and on to the western Pyrenees, where loyal Basques gave her great support.

In August 1941 she took three soldiers along the route to Bilbao, where she approached the British consulate for future support. The vice-consul was sceptical, at first fearing a German plot. He could scarcely believe that so petite and attractive a young girl could have made the journey on foot across the mountains by a smugglers' trail after travelling across occupied France, and told her he would have to refer her plan to the British embassy in Madrid. She responded by saying that she would be back in a few weeks with more men.

In the meantime Airey Neave, who had earlier escaped from Colditz Castle and was now the co-ordinator of the London-based escape and evasion organisation at MI9, was alerted to the appearance of this intriguing girl. There was a flow of telegrams and reports as attempts were made to establish her authenticity.

In October 1941, when Dédée reappeared in Bilbao with a group of RAF aircrew, she met the MI9 representative who was based in the embassy in Madrid. The arrival of valuable aircrew dispelled any doubts about her and funding for the line was approved. Dédée de Jongh, however, insisted that the the Comet Line (as it became known) remained under Belgian control, and throughout the war it was organised by Belgian leaders at every stage of the journey from Brussels. She was given the codename "Postman", but Airey Neave always referred to her as Dédée...

Once the Comet Line (so called because of the speed at which it operated) was established there was a constant stream of shot-down aircrew escorted to the "last house" in the French-Basque village of Urrugne.

Whichever route the evaders took through France, they always ended up at this house, where they were sheltered before meeting Basque guides organised and led by a giant of a man known as Florentino. He constantly drove the evaders to move quickly as he helped them across the rivers and mountains, with Dédée encouraging them from behind.

Dédée de Jongh made more than 30 double crossings and escorted 116 evaders, including more than 80 aircrew. But on the night of January 15 1943 she was sheltering at Urrugne with three RAF evaders when she was betrayed. The house was stormed and she was captured. When interrogated under torture by the Gestapo, in order to save others she admitted being the leader of Le Reseau Comète.

The Gestapo, however, refused to believe that such a young and innocent girl could be in charge of an underground movement whose compass stretched from from Belgium to Spain.
When the Germans overran her country in May 1940 she was earning her living as a commercial artist at Malmédy. She returned to Brussels and took up work as a nurse, for which first-aid training had already qualified her. She spent a year studying the many German regulations about control of movement, helping wounded Allied soldiers in Belgian hospitals to send letters home through the Red Cross and sounding out close friends about setting up an escape organisation. She had worse to wrestle with than Miss Cavell, who had only to move men across the Dutch frontier. This time the Netherlands were also occupied, as were Luxembourg and northern and western France; Alsace and Lorraine had been reannexed into Germany and southeastern France, governed from Vichy, seemed to her a satellite of the Nazi Reich.

Eventually she decided to try to move men out across occupied France, by train through Paris and Bayonne, and then on foot across the Pyrenees. All eleven of the first party she sent were arrested in Spain; only two of them got through to England. She took the next party herself, a Scottish private and two Belgian officers, got safely across with them into Spain and threw her companions on the mercy of the British consulate at Bilbao.

The secret service suspected a Gestapo plot, but the consulate persuaded London that Andrée de Jongh's radiant integrity could not be forged; and London helped to supply the money for future journeys. Her friends stood by her. Almost all were young; none had had any training in secret work. Brussels got too hot to hold her, and she moved her personal base to Paris. She had a splendid anchor-woman at Anglet near Biarritz in the shape of Madame Elvire de Greef, a Belgian refugee whose husband stole passes from the local Kommandantur, where he worked. She made friends with a vast, bearlike Basque guide who knew every footpath in the mountains and business became brisk. Once she brought back the seven-man crew of an RAF bomber in a week. Airmen she accompanied spoke repeatedly of how much they admired her combination of energy and discretion. Her presence gave enormous encouragement to young men as they tackled the river crossing and the stiff mountain tracks into Spain. Every time, once they were safely on neutral ground, she turned back into danger.

In January 1943, on her way to her 33rd crossing of the Pyrenees, she and three young RAF evaders were at last arrested; one of the young men talked. The Germans, who interrogated her more than 20 times, at first refused to believe the one admission she made, that the whole affair was entirely her own responsibility. Eventually the Gestapo took her over from the Luftwaffe, answered no inquiries about her, and sent her to Ravensbrück concentration camp. There she managed to get lost in the shaven crowds on the verge of starvation, so that when they came back to requestion her they could not find her.
De Jongh was born in occupied Brussels in 1916, a year after the British Red Cross hospital matron Edith Cavell was shot by the Germans for helping some 200 first world war soldiers to escape from Belgium to the neutral Netherlands. The story deeply impressed the young Andrée. The younger daughter of schoolmaster Frédéric de Jongh, she was 24 and working as a commercial artist in Malmédy at the time of the Belgian surrender to the Nazis. She threw up her job, moved to Brussels and became a nurse. Some of her patients were British servicemen, whom she helped to send letters home via the Red Cross.

Entirely on her own initiative, De Jongh began to make discreet soundings among friends and contacts with a view to copying her heroine, Cavell. Circumstances for such activity were much harder in the second world war than in the first: this time, the Netherlands had been overrun, while the whole of France was under direct or indirect Nazi control, divided between a German-occupied zone and a collaborationist Vichy.

The construction of what was called the Comet escape line was methodical from the outset. De Jongh arranged a series of safe houses in and around Brussels, where evading soldiers and aircrew could await escort out of the country along a complicated route. She found plenty of helpers, even though such activity was subject to the death penalty. Her first escape group comprised 11 men, who were sent via Paris and further Nazi-occupied French territory (which included the whole of the Atlantic coast) to the Pyrenees, which they crossed on foot into neutral but pro-Nazi Spain.

This first sortie ended badly. All members of the party were arrested by the Spanish authorities; only two ultimately managed to reach England. So De Jongh decided to lead the next group, two Belgian soldiers and a Scot, to Spain herself. They eventually stole into the British consulate in Bilbao, a success that proved to be the breakthrough.