King John and the Magna Carta (Classroom Activity)

King John decided to make another attempt at gaining control on his lost territory in France. In February 1214, John he sailed from Portsmouth for La Rochelle, in a ship carrying numerous English nobles, as well as Queen Isabella of Angoulême and their five-year-old son, Richard. The campaign began well and his soldiers seized Poitou, Nantes and Angers. However, he suffered defeats at Roche-au-Moine (2nd July) and Bouvines (27th July). King John was forced to sign a five-year truce with King Philip at a price that was believed to be in the region of £40,000.
King John returned to England as a discredited monarch. The only patch of territory in mainland France that remained loyal to the English Crown was Gascony and the area around Bordeaux. The historian, Frank McLynn, has argued that his military defeat in France caused John serious problems: "Having given up (or been forced to give up) their Norman lands, the new barons domiciled in England had more time to concentrate on the affairs of the island, with unpleasant consequences for John."
When John tried to obtain this money by imposing yet another tax, the barons rebelled. Few barons remained loyal, and in most areas of the country, John had very little support. In January 1215 the king met his opponents at London - they came armed - and it was agreed that there should be another meeting in the near future. On 15th June, 1215, at Runnymede, King John was forced to accept the peace terms of his opponents.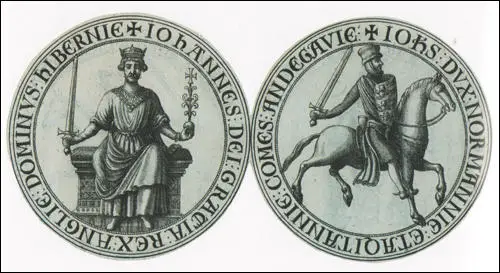 (Source 2) Extracts from the Magna Carta (1215)
(I) In the first place we have granted to God... that the English Church shall be free... freedom of elections, which is reckoned most important and very essential to the English Church...

(II) If any of our earls, or barons... shall have died, and at the time of his death his heir shall be of full age... he shall have his inheritance...

(VII) A widow, after the death of her husband, shall without difficulty have her inheritance...

(VIII) No widow shall be compelled to marry, so long as she prefers to live without a husband...

(XI) If anyone die indebted to the Jews, his wife shall... pay nothing of that debt.

(XII) No scutage or aid (tax) shall be imposed on our kingdom, unless by common counsel of our kingdom...

(XIV) And for obtaining the common counsel of the kingdom before the assessing of an aid or of a scutage, we will cause to be summoned the archbishops, bishops, abbots, earls, and greater barons...

(XX) A freeman shall not be fined for a slight offence... and for a grave offence he shall be fined in accordance with the gravity of the offence... and a villein should be fined in the same way.

(XXIII) No village or individual shall be compelled to make bridges or river banks...

(XXX) No sheriff or bailiff... or other person, shall take the horses or carts of any freeman for transport duty, against the will of the said freeman...

(XXXV) Let there be one measure of wine throughout the whole kingdom, and one measure of ale; and one measure of corn; and one width of cloth...

(XXXIX) No freeman shall be taken or imprisoned or outlawed or exiled or in anyway destroyed... except by the lawful judgement of his peers or by the law of the land.

(XL) To no one will we sell, to no one will we refuse justice.

(XLI) All merchants shall have safe and secure exit from England, and entry to England, with right to be there and to move about... for buying and selling... except in time of war, such merchants as are of the land at war with us. And if they are found in our land at the beginning of the war, they shall be detained, without injury to their bodies or goods, until information be received by us by our chief justicar how the merchants of our land found in the land at war with us are treated; and if our men are safe there the others shall be safe in our land.

(XLII) It shall be lawful in future for anyone to leave our kingdom... excepting those imprisoned or outlawed in accordance with the law in the kingdom...

(XLV) We will appoint as justices, constables, sheriffs, or bailiffs only such as know the law of the kingdom and mean to observe it well.
The leaders of the barons in 1215 groped in the dim light towards a fundamental principle. Government must henceforward mean something more than the arbitrary rule of any man, and custom and the law must stand even above the King.
The barons might have forced John to make concessions about how he would rule, but no king could allow himself to be seen to capitulate to his subjects; he was, after all, set over them by God... The terms of Magna Carta were, therefore, couched in the form of a grant from a benevolent king to his faithful subjects.

Questions for Students

Question 1: What evidence is there in the Magna Carta that the barons were unhappy with the way the law operated under King John?

Question 2: Explain how the following groups of people might have responded to the Magna Carta: (a) widows; (b) merchants; (c) villeins.

Answer Commentary


A commentary on these questions can be found here.