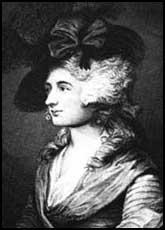 Sarah Siddons, eldest child of Roger Kemble, the manager of a small travelling theatre company, was born in Brecon, South Wales, in 1755. She worked as an actress in her father's company when only a small child.
In 1773 Sarah married a fellow actor, William Siddons. Over the next few years the couple had seven children, two of whom died in infancy.
Sarah first began working in London in 1775 but it was not until 1782, with her appearance as Isabella in Fatal Marriage at the Drury Lane Theatre, that she achieved recognition for her acting ability. Over the next few years she established herself as Britain's leading actress. Her final performance on the English stage was as Lady Macbeth in June, 1812. Sarah Siddons continued to give public readings until her death in 1831.