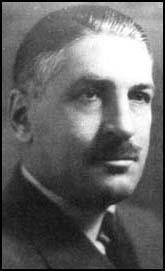 Clifford McEwen was born in Griswold, Canada, on 2nd July, 1896. After studying at the University of Saskatchewan he enlisted in the Canadian Corps in 1916.
He moved to England during the First World War and joined the Royal Flying Corps. He served as a pilot with 28 Squadron in Italy where he shot down 22 enemy aircraft and won the Military Cross.
After the war he joined the recently established Canadian Air Force. On the outbreak of the Second World War he was a group captain at the main training base at Trenton, Ontario.
In 1941 McEwen was promoted to air commodore and was given command of Coastal Command at St John's, Newfoundland, where he had the task of waging war against German U-Boats in the North Atlantic.
McEwen was brought to England in 1943 and the following year was promoted to air vice-marshal and appointed commander of the 6 RCAF Group.
In 1946 McEwen retired from the Canadian Air Force and became a private consultant to aircraft manufacturers and a director of Trans-Canada Air Lines. Clifford McEwen died on 6th August 1967.