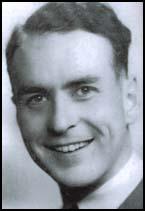 Bertram (Jimmy) James was born in India on 17th April 1915. His family were tea planters and he was sent home to be educated at King's School in Canterbury.
James emigrated to British Columbia but returned on the outbreak of the Second World War and volunteered for the Royal Air Force.
In June 1940 James was a co-pilot of a Wellington bomber shot down near Rotterdam. He was caught by the Dutch police who handed him over to the occupying German Army.
James was imprisoned at Stalag Luft I on the Baltic coast. In September 1941, he and a companion got out via a tunnel during a power cut and hid under a hut outside the camp. However, James was spotted by a guard. After several unsuccessful escape attempts he was transferred to Stalag Luft III.
In January 1944, Jimmy James joined a group of men planning a mass breakout. The escape committee decided that 200 men would break out on the night of 2nd March 1944. James was a member of a group of 12 who planned to pass as foreign labourers from a local timber mill on their way home to Czechoslovakia on leave. James and his friends were caught at a railway station. All but three men were recaptured.
Adolf Hitler ordered the captives to be shot. Hermann Göring, who feared reprisals against members of the Luftwaffe that had been captured, objected to this measure. After discussions with Wilhelm Keitel and Heinrich Himmler, it was decided that only 50 prisoners were executed by the Gestapo. James was sent to Sachsenhausen Concentration Camp.
In February 1945 Jimmy James was moved to the Tyrol away from the advancing Red Army. He was eventually liberated by the US Army on 3rd May, 1945.
James was awarded the Military Cross for his attempts to escape back to England. After the war James remained in the Royal Air Force. He retired in 1958 with the rank of squadron leader. James served as general secretary of the Great Britain-USSR Association until he joined the diplomatic service in 1964. He was also the British representative on the International Sachsenhausen Committee.
Bertram James, who published his autobiography, Moonless Night in 2001, died in Royal Shrewsbury Hospital, aged 92 on 18th January, 2008.