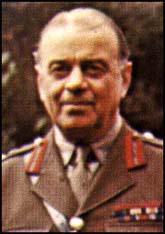 Hastings Ismay was born on 21st June 1887. Educated at Charterhouse and Sandhurst Military Academy he was commissioned into the British Army in 1905. He served with the 21st Cavalry Frontier Force in India and during the First World War he fought in Somaliland.
In 1926 Ismay joined the Imperial Defense Committee and as a major general became chief of staff to Winston Churchill in May 1940.
Ismay retired from the British Army in 1946 as a full general. He then went to India where he served under Lord Mountbatten as chief of staff.
Lord Ismay returned to Britain after Indian Independence and in 1951 Churchill appointed him as Secretary of State for Commonwealth Relations (1951-52). He was also the first Secretary General of NATO (1952-57). His autobiography, The Memoirs of General Ismay was published in 1960. Hastings Ismay died in 1965.
(1) Primo Levi, Survival in Auschwitz (1947)
Last spring the Germans had constructed huge tents in an open space in the Lager. For the whole of the good season each of them had catered for over 1,000 men: now the tents had been taken down, and an excess 2,000 guests crowded our huts. We old prisoners knew that the Germans did not like these irregularities and that something would soon happen to reduce our number.