Joseph Flatter was born in Austria in 1894. A student at the Vienna Academy of Art he worked as a painter and cartoonist. A strong opponent of Adolf Hitler and his Nazi Government, Flatter and his wife, the concert pianist Hilda Lorwa, moved to London in 1934.
On the outbreak of the Second World War Flatter was briefly interned as an "enemy alien". After his release he produced anti-Nazi propaganda for the British government. Flatter became an official British War Artist and in this role attended the Nuremberg War Trials with David Low.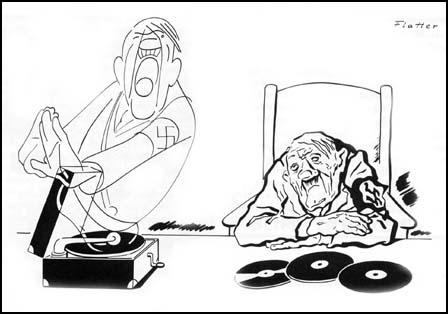 After the war Flatter wrote: "I drew many hundreds of cartoons during the war and, to my surprise, ideas never failed me. The moving force was hatred, it took concrete shape before my eyes. And my hatred of those responsible for the wanton cruelty done to so many innocent victims was boundless. I went about in the shape of my adversaries. I crept into their skin. I drew, hanged and quartered them."
Joseph Flatter died in 1988.