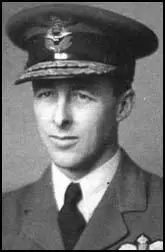 Donald Bennett, the son of a sheep farmer, was born in Toowoomba, Australia on 14th September, 1910. He joined the Royal Australian Airforce in 1930 and the following year he was transferred to the Royal Air Force. Initially posted to 29 Squadron he later became an a flight instructor on Flying Boats.
In 1935 Bennett joined Imperial Airways where he achieved several much published flying exploits. In 1941 he was recruited once again into the RAF. Promoted to the rank of wing commander he was appointed as commander of 77 Squadron in December 1941.
Bennett became commander of 10 Squadron in April 1942 and he took part in the raid on the Tirpitz. He was shot down but he evaded capture and eventually arrived home via Sweden.
In July 1942 Arthur Harris, head of Bomber Command, appointed Bennett as commander of the Pathfinder Force. Bennett was a great success in this post and he was eventually promoted to the rank of vice-marshal.
Bennett, and Edward Addison, were the only bomber group commanders not to receive a knighthood. Later Bennett became Liberal MP for Middlesbrough West. He also designed and built several light aircraft and cars. Donald Bennett died on 15th September, 1986.